+ ADD

BIGCOMMERCE TO THE READYCLOUD SUITE
An amazing eCommerce shopping experience starts with your brand's promise to ship consumers their orders quickly and accurately while making it easy for them to send products back that don't work out. ReadyCloud Bigcommerce CRM software helps you maintain this pledge by giving you and your team all the tools you need to ship faster, make returns easier and keep your customers updated with growth marketing. Start your 14-day free trial today. No credit card is required.
NO CREDIT CARD INFO NEEDED!
ReadyCloud CRM Pricing
$24
Per User/Month, Billed Monthly.
Cross-channel ecommerce CRM
for online retailers.
All Standard Integrations Included
1GB Team File Storage
Get Free Users
Cross Channel Order Visibility
Contacts
Calendar
Unlimited Order Import
Notes
Reports
TRY FOR FREE
NO CREDIT CARD - NO COMMITMENT
See All Your Channels From The Dashboard
ReadyCloud's cross-channel dashboard helps you and your team improve workflow with complete visibility into all your orders. Simply connect your other stores (Amazon, eBay, Walmart, etc.) to see all your orders in real-time. Use ReadyCloud's integrated tools to manage customer profiles, add notes, events and even Growth Marketing.
Put a name and face to orders with ReadyCloud. See what your customers are buying, with a complete shipping timeline, invoice and order number, tracking number, notes, tagging and more. ReadyCloud gives you all the tools you need to make every shopping experience memorable for consumers.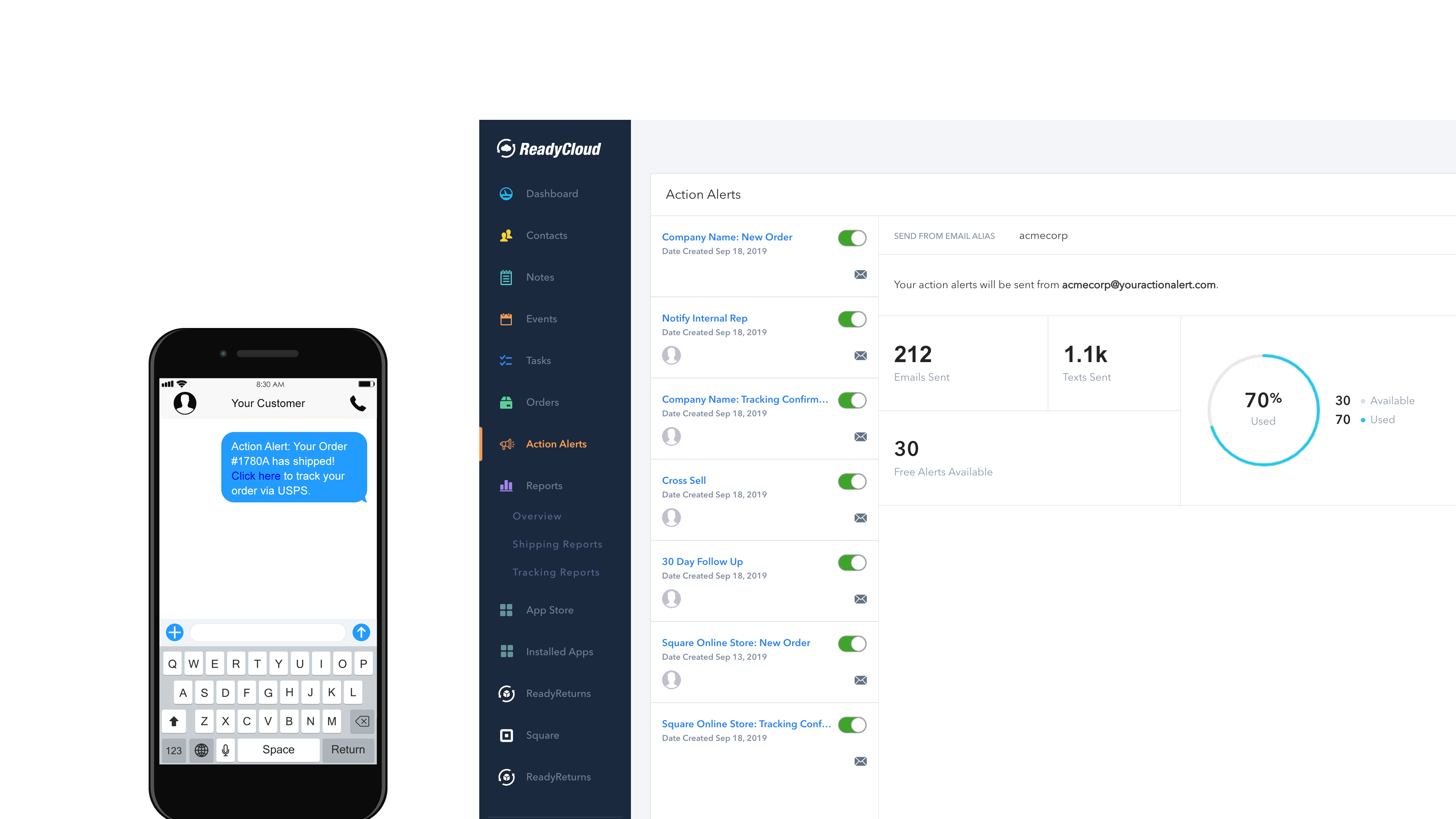 Grow your online store the smarter way with Action Alerts. This Growth Marketing tool lets you update customers via SMS and email with shipping, tracking, delivery and returns information, as well as up-selling, cross-selling, reminders, thank yous and so much more. You get 100 free Action Alerts included in your account to get started.
ReadyShipper takes the hassles out of shipping at your Bigcommerce store. Packed with powerful features and functions, you'll be shipping like a pro in no time! Save lots of time with automated features like instant data import, easy sorting and batch editing, and one-click customer updates. Shipping should be this simple.
How about rates? ReadyShipper connects you to instant shipping savings on a variety of USPS Priority Mail sizes. Easily compare rates and save big bucks.
Make returns easy for you and fast and convenient for your customers with ReadyReturns, a fully automated product returns system for your online store. ReadyReturns gives you a fully automated online product returns system, just like Amazon's, so you can save time and offer your customers a unique amenity.
Want to reduce returns? ReadyReturns sends your analytics to ReadyCloud CRM, so you can learn what's causing returns. Make changes and reduce returns. It's that easy!