+ ADD

BIGCOMMERCE TO THE READYCLOUD SUITE
 The BigCommerce CRM software integration for the ReadyCloud Suite connects all your other sales channels and marketplace accounts, delivering a powerful and user-friendly multichannel CRM solution that helps you improve loyalty and retention. Get to know your customers better with instant profiles, detailed reporting, customer-focused notes, calendar, integrate tasks, email marketing, to-dos and more!
Need even more options? Add BigCommerce shipping software (ReadyShipper) or BigCommerce returns software (ReadyReturns) from the Appstore for an added monthly fee to round out this ecommerce suite.
No Credit Card Info Needed!
See All Your Channels From The Dashboard
The ReadyCloud Bigcommerce CRM dashboard gives you powerful tools to build relationships. Spot trends on rich charts that are updated in real-time with all your cross-channel data. Complete tasks that come in as alerts and breadcrumbs so you don't overlook to-dos. Stay on pace with coordinated events, email marketing integrations and robust reporting that helps you improve relationships and up your game.
Put a name and face to orders with ReadyCloud. See what your customers are buying, with a complete shipping timeline, invoice and order number, tracking number, notes, tagging and more. You can even expedite orders by assigning them to team members as tasks for follow-up, dispute resolution, fraud prevention and more.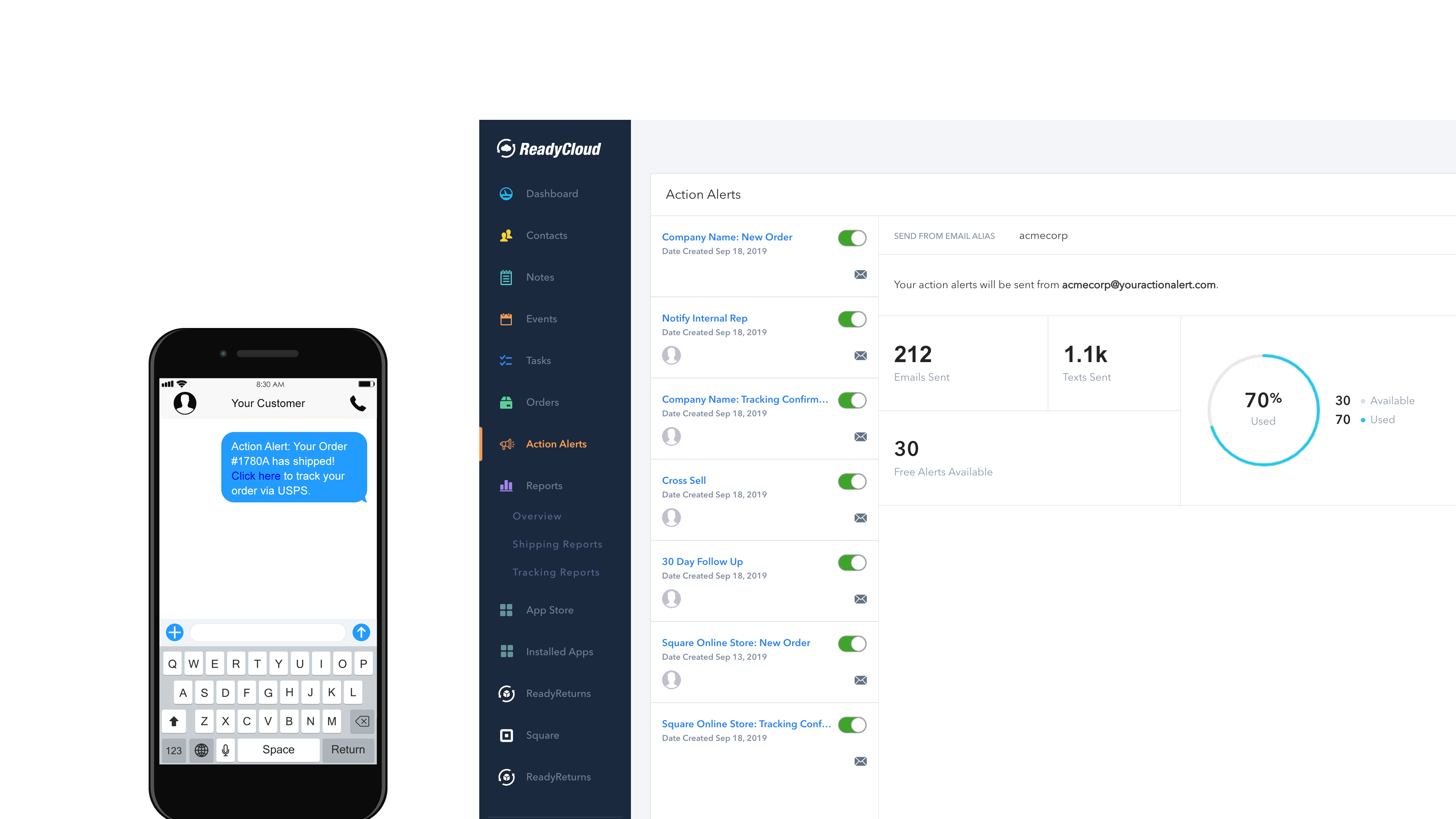 Grow your online store the smarter way with Action Alerts. This Growth Marketing tool lets you update customers via SMS and email with shipping, tracking, delivery and returns information, as well as up-selling, cross-selling, reminders, thank yous and so much more. You get 100 free Action Alerts included in your account to get started.
ReadyShipper takes the hassles out of shipping at your Bigcommerce store. Packed with powerful features and functions, you'll be shipping like a pro in no time! Save lots of time with automated features like instant data import, easy sorting and batch editing, and one-click customer updates. Shipping should be this simple.
How about rates? ReadyShipper connects you to instant shipping savings on a variety of USPS Priority Mail sizes. Easily compare rates and save big bucks.
Make returns easy for you and fast and convenient for your customers with ReadyReturns, a fully automated product returns system for your online store. ReadyReturns gives you a fully automated online product returns system, just like Amazon's, so you can save time and offer your customers a unique amenity.
Want to reduce returns? ReadyReturns sends your analytics to ReadyCloud CRM, so you can learn what's causing returns. Make changes and reduce returns. It's that easy!
What rules do you want your return policy to feature? ReadyReturns lets you set custom rules for all your returns. Want to make a change? Just log in and update your settings.
ADDITIONAL CRM FEATURES
With integrated analytics, you can finally learn the lifecycle of your customers. Find out who is buying what, when and why. Track orders from origination to shipment and even returns. Create detailed customer profiles with the ability to add notes with tagging, events and calendar entries. Never miss out on a sales chance again!
ReadyCloud helps you instantly connect the dots between your customers, their buying habits, shipping preferences and trends. With a growing list of powerful apps that add everything from shipping, automated returns and marketing weapons to your arsenal, you can be in the strong position to succeed from day one.
The calendar for ReadyCloud CRM for Bigcommerce lets you take things a step further. You will be able to set daily reminders by creating events using the color-coded interface, which features week, month and day views. With convenient profile tagging, you can easily add a customer's profile to any event, so you are in the know at all times.
Point of sale systems are not designed to build relationships. But it's the relationships that you build with your customers that lead to the sales that you process from the POS. Now there's way to connect both sides with the ReadyCloud Suite.
Stay on top of important to-dos with integrated tasks. Create as many tasks as you need and assign them to team members as you see fit. Add notes, files, tags and more to tasks, with due-by dates and real-time dashboard alerts and breadcrumbs. You can even tag orders and customer profiles in tasks for followup with your team.
Use the notes feature inside of the contact list to add details about each customer that you have. Whether you need to make special notes on a particular order, a backordered item or a customer service note, you will be in full control. When customers call in, your support team will be empowered to offer them a higher level of service than your competitor.
ReadyCloud CRM for BigCommerce will instantly import all of your customers' information, creating highly detailed profiles for each customer along the way. You are able to edit these details as you see fit, with feature-rich forms and profile options that help you learn more about each customer that comes your way. Learn what your customers are doing with real-time sales, order and shipping data for each profile.