+

A

D

D

Ebay TO THE READYCLOUD SUITE
Selling on marketplaces like eBay is part of most retailer's online marketing plan. But without a way to consolidate cross-channel data, you won't be able to build relationships with customers. That's where the ReadyCloud Suite can help. It's powerful eBay CRM software that connects all your sales channels and marketplace accounts to give you real-time customer insights, complete with instant profiles, customer-focused notes, color-coded calendar and marketing integrations. The next wave in relationship building starts here.
No Credit Card Info Needed!
See All Your Channels From The Dashboard
ReadyCloud eBay CRM helps you connect the dots between all your sales channels with the integrated dashboard. It delivers real-time reports, trends, shipping profitability, seasonality and more, with real-time tasks and alerts, calendar, events, tagging, notes, email marketing integrations and more.
See your orders in full view with data you won't get from eBay. Just click into any order to see invoice, tracking number, data, shipping timeline and return info. Add notes to orders, tag them for easy sorting and even assign them to team member's via tasks to make your workflow superfluous.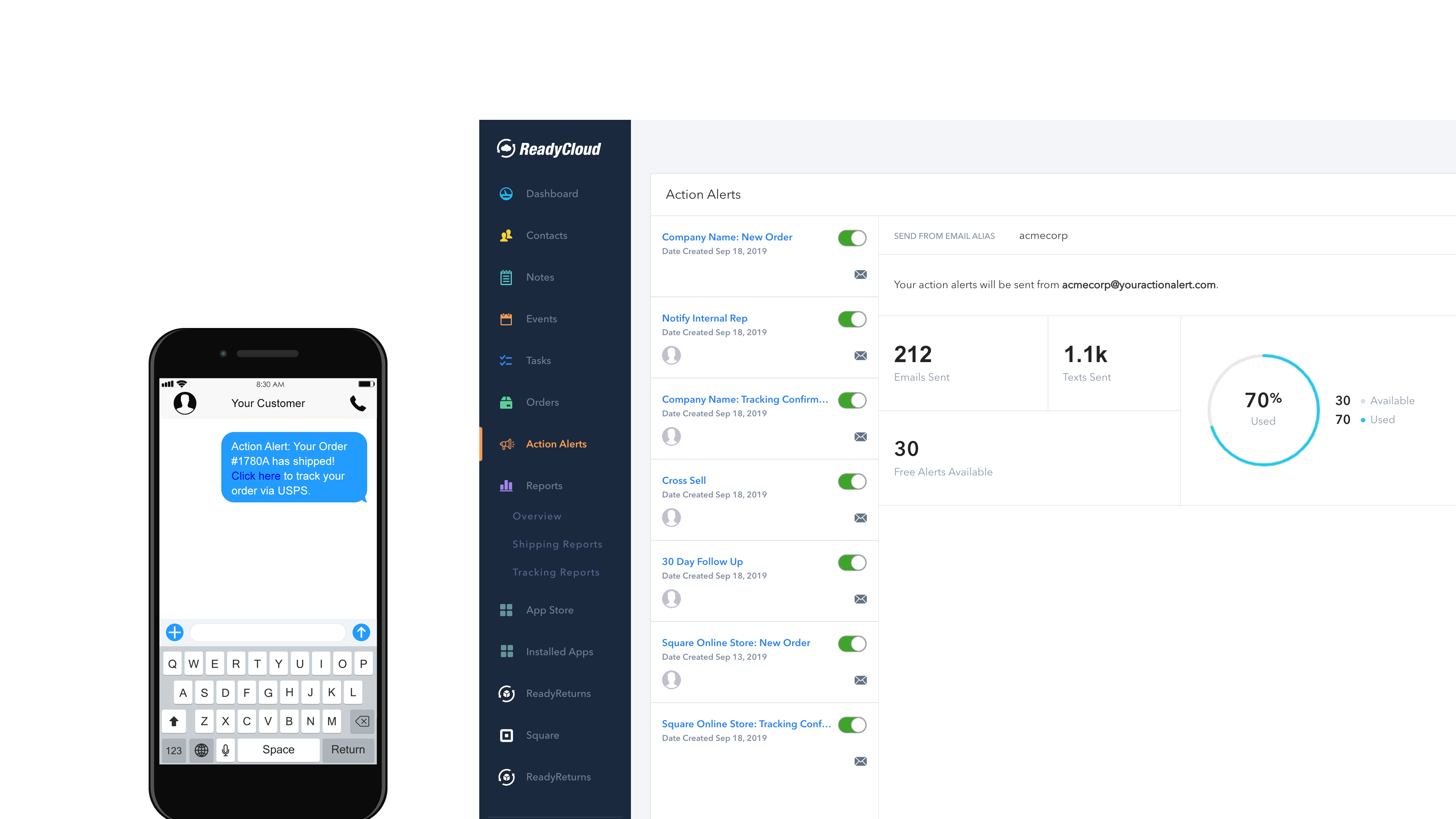 Grow your eBay business the smart way with integration Action Alerts that let you send automated SMS/email updates to your customers with order, shipping, tracking and return information and the ability to cross-sell or upsell. 100 Action Alerts are included at no charge with your ReadyCloud account.
ReadyShipper takes the hassles out of shipping your eBay orders as well as orders from your other online sales channels. It's packed with powerful features, automators and built-in shipping discounts to make your day easier.
Ready to save? Tap into instant shipping savings on a wide assortment of USPS Priority Mail packages (up to 20-pounds) with built-in Flat Rate Select. Just a few clicks can save you a bundle!
With custom rules, you'll be able to tailor the exact return policy you need. From return by dates and shipping fees to restocking fees and much more. You're in full control. Modify rules at any time by simply updating the settings in ReadyReturns.
Knowing what your customers are buying and what they are returning, and why, is the key to reducing returns. ReadyReturns and ReadyCloud CRM deliver real-time analytics, so you can improve retention.
Your return policy rules are easily set in ReadyReturns. From return by dates to shipping fees, restocking fees and more. You can even update the rules at any time by simply logging in to the software and making changes.
ADDITIONAL CRM FEATURES
With integrated analytics, you can finally learn the lifecycle of your customers. Find out who is buying what, when and why. Track orders from origination to shipment and even returns. Create detailed customer profiles with the ability to add notes with tagging, events and calendar entries. Never miss out on a sales chance again when you have ReadyCloud powering your eBay store.
Take on your day in style with integrated tasks and team management. Create unlimited tasks and assign as many team members as you like to them. Add notes and comments, attach files, tag tasks for easy sorting and even add tasks to specific orders and returns. With real-time dashboard alerts and due-by dates with breadcrumbs, your whole team will be connected.
The ReadyCloud eBay CRM app lets you add custom notes to each contact, an order, an item… even during a customer service inquiry. This tool helps you better connect with your customers and deliver amazing customer support.
ReadyCloud CRM for eBay helps you improve your customer relationship by enabling you to learn more about your customers in the first place. Using the ability to match shipping information and email address, you will be able to instantly create detailed customer profiles that feature real-time sales, order and shipping data.
Want to get even more out of ReadyCloud CRM software for eBay? Then take a look at our expanding list of integrations and apps. Use these add-ons to make ReadyCloud an even more powerful customer relationship management and marketing tool!
Stay on top of your busy day and better maintain the relationship with your customers using the color-coded calendar. With convenient week/day/month views, it's easy to update with new dates and add important events all the time. Tag certain customers in a date to set reminders, so you don't let anything go overlooked ever again.
Point of sale systems are not designed to build relationships. But it's the relationships that you build with your customers that lead to the sales that you process from the POS. Now there's way to connect both sides with the ReadyCloud Suite.