These Ecommerce Statistics Matter Most
With online shopping expected to burgeon past the $1.5 trillion marker this year in worldwide sales – with some experts predicting that ecommerce will surpass $2 trillion in the next few years – it's the fastest growing and one of the most valuable industries. But how do the most current ecommerce statistics stack up and what are they telling us about this monstrous growth? We've taken the time to compile a rather healthy list of these online shopping statistics to help you with your research.
2016 Ecommerce Statistics
Most shoppers, about 71%, shop online because they want to get a better deal, and nearly 80% of the entire US population has made an online purchase; 50% of them have made more than one. According to Business Insider, this equated to 198 million US shoppers in 2014, or about 78% of the entire population. Additionally, ecommerce factored to be 7.5% of all retail in the U.S. for the fourth quarter of 2015, explains the US Census Bureau. This represents growth of .5% from the first quarter of the past year through the fourth. Check out this chart below for further clarity.
Mobile Commerce Is Growing
Mobile commerce grew by leaps and bounds, explains Internet Retailer, accounting for a whopping 30% of all ecommerce in the US in 2015, a nearly 5% increase from the year prior. Mobile 500 merchants realized a 68.5% increase in visits this past year, accounting for over 3 billion sessions. Monthly unique visitors grew by an astounding 44% to 964 million. What's more, mobile app usage and downloads increased by 44%, generating an estimated $40.58 billion in revenue for mobile retailers.
Gender shopping from smartphones is nearly equal, according to Business Insider. Men shop from their handsets 22% of time as compared to women, who shop on the gadgets 18% of the time. Oddly enough, the tablet is the most valuable device for conversions, says Adobe, with consumers buying three times as often from a tablet over a smartphone. What's more, tablet shoppers will spend 50% more than desktop users on a purchase.
Interestingly enough, one in four online shoppers is 54 or older, says Business Insider, narrowing the gap between generational spending. But, the report also inflects that men between the ages of 18-34 are the most likely demographic to make an online purchase, followed by males between the ages of 35 and 64, and females between the ages of 18 and 34, and females between the ages of 35 and 64.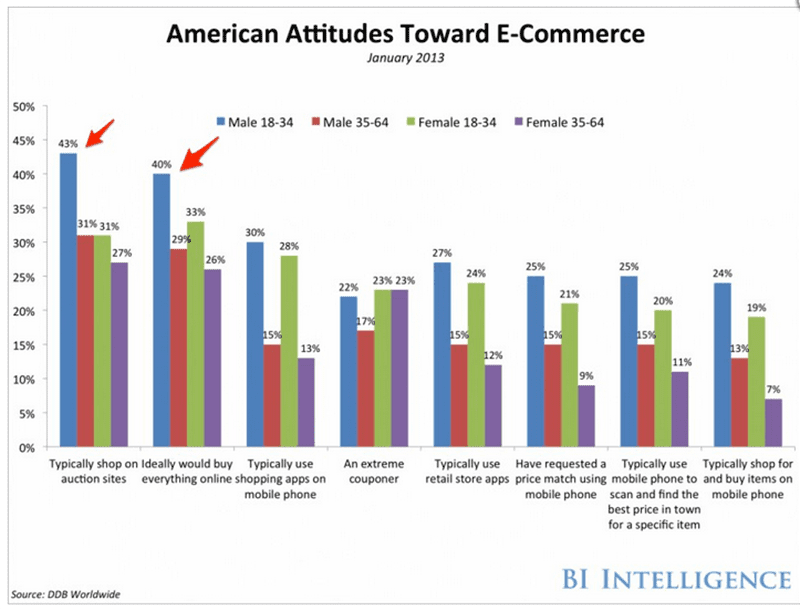 In 2015, social shopping grew by a large margin. According to Invesp, 5% of all online spending was fed by social commerce. Facebook topped the referral list here at 38%, followed closely by Pinterest at 29% and Twitter at 22%.

All online shoppers want the best deals, and many of them will take the time to look for deals. The most popular of these deals are offered via digital coupons. But how many people are using them and just how much of an impact are they having on ecommerce as a whole? Let's take a look at the most recent mobile coupon statistics to find out.
55% of internet users in the U.S. redeem mobile coupons from social networks.
Mobile coupon users will represent 83% of all digital coupon users by 2016.
Over 70% of digital coupons were redeemed via mobile phone in 2014.
75% of all mobile shoppers have redeemed a coupon, most often from a social network.

Unsurprisingly, shopping cart abandonment rates have remained relatively unchanged over the past five years. The average conversion rate is just under 3%, meaning that about 97.1 percent of shoppers do not convert at any given online store. The most recent studies have found that over 60% of cart abandonment rates are linked to shipping and handling costs.
So what predictions can be made about ecommerce for this forthcoming year? Here are a few to help get your noodle grinding.
US ecommerce sales will top $350 billion for the first time.
Amazon will launch its international shipping business and say goodbye to reliance on domestic and international carriers.
A major shift in department stores will see hundreds of brick and mortar locations shuttered in favor of online shopping and discount retail outlets.
Social commerce will take center stage as the leading way to convert customers.
Online product reviews and ratings will become the backbone with sales.
Twitter and Facebook will roll out new online stores that allow you to make purchases directly from the site.
We leave you with this infographic about the consumer mindset as it relates to online shopping. Use it to better mold the experience at your online store into one that's conducive to more conversions and a stronger customer service model.