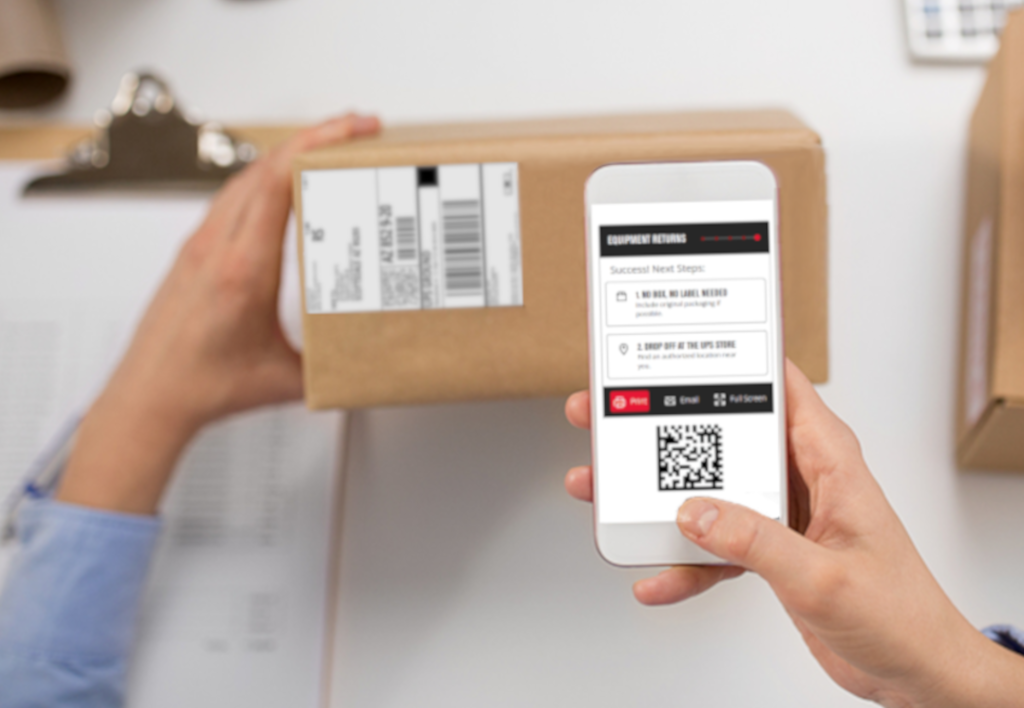 Your workforce is decentralized and shipping equipment to at-home workers and satellite offices is the new normal. When things change, and the equipment needs to be returned, ReadyReturns equipment returns software is the hassle-free answer for your business.
We make it easy for your current and former workers to send back company-owned equipment like monitors, cellphones, computer towers, laptops, hard drives, printers and more.
Your employees have a smartphone. Use it to issue a pay-on-use return shipping label or QR code to make every equipment return predictable and reliable.
QR Codes are custom coded for your company and equipment. They identify the return destination, how equipment should be packaged and the shipping method.
QR codes can be created by your employee and scanned from their mobile device to create a return label at any UPS Store.
QR Codes can be issued by an administrator or internal agent and automatically sent to the employee's company email.
Require equipment images before the QR code is created. Images are saved as part of the RMA (return merchandise authorization) to verify against the equipment received.
Your return policy starts with QR codes. They are a standard ReadyReturns feature that can be activated without monthly minimums. Contact Us today for more on how to get started.
No label? No box? No problem! When you want your company owned equipment returned, make it hassle free.
ReadyReturns will encourage a timely return and eliminate the added costs of sending boxes and shipping materials. Whether it's an ex-employee's equipment return or a field rep's equipment refresh, a drop-off point is always right around the corner.
There are more than 5,000 UPS Store locations nationwide to professionally package and facilitate the return your way. ReadyReturns executes your return policy to make the most of drop-off convenience, including:
Box and no-box options.
Mobile QR Codes for no-label options that recognize your company's shipping rules and unique packing requirements.
Tracking-based Action Alert notifications to announce the carrier acceptance scan and return delivery confirmation.
Reporting and accountability that monitors the movement of every return, what's in the box, who returned it and when to expect it.
Limit the possibility of damaged return shipments and increase employee compliance with ReadyReturns. Contact Us today for more information on how to get started.
Why motivate an ex-employee to return company-owned equipment when you can schedule a driver to pick it up. Front-door pick-up is a standard option in ReadyReturns and its versatile uses may surprise you:
No box, no label options for the perfect hand-off. Drivers are equipped to receive loose items, box and prep them for return fulfillment.
Use the ReadyReturns Customer Service portal to schedule a pick-up at the ex-employee's location.
Offer a Self-Service Portal enabling ex-employees to load pictures, add descriptions and schedule a time that works for them.
Schedule a pick-up with your field reps, wherever they might be, to return samples or dated equipment.
After pick-up, your equipment can be shipped directly to your business, forwarded to your 3PL or consolidated and returned in bulk for maximum savings on return shipping.
Use ReadyReturns with front door pick-up as an extension of your company's HR protocol for recovering equipment or off-boarding employees.  A headless, API-driven option is available to incorporate ReadyReturns as a seamless extension of your current systems.
Contact Us today to learn more at: (877) 818-7447