Ship From Anywhere For Less
When you need to get your orders out the door with lighting speed and unsurpassed accuracy, ReadyShipper 3dcart shipping software is your go-to system. With a ton of automated features to make your life easier, including built-in shipping discounts and so much more, you'll wonder how you ever shipped before!
The all-new ReadyShipper X has been retooled from the ground up. It's faster, more agile and offers more features than ever before. Hosted in the cloud, you can access your orders from anywhere you have internet. The new Smart Box Manager lets you sort multiple boxes with an easy drag-and-drop interface.
Shipping Genie scans your outbound orders to help you find and fix errors before you ship. Get real-time rate comparisons between all carriers in just a few clicks. Top it off with built-in shipping discounts for USPS that are built right in, and you have a winning combination!
ReadyShipper X is a premium plugin for the ReadyCloud CRM suite. To get started, make sure you create your ReadyCloud CRM account, and then add ReadyShipper X from the Appstore. Start your 14-day free trial now. No credit card is required. Questions? Call us at: 877-818-7447.
Ship Anything… From Anywhere

Integrate ReadyShipper 3dcart shipping software easily into your existing shopping cart to better track, manage and process your outbound shipments. Reduce shipping orders and mislabeled products using the intuitive and smart, user-friendly interface. Ship anything from your 3dcart store, Amazon or eBay store with ease and from anywhere that you have an internet connection.
Easy Editing

Import all your daily orders into ReadyShipper quickly and print batch-shipping labels faster than ever before with multiple carriers such as UPS, FedEx and USPS. Use ReadyShipper to ease your daily fulfillment operations. Easily edit and manage orders for quick fulfillment, and save more time in your day!
Multi-Carrier Shipping Solution

ReadyShipper shipping software for 3dcart is a multicarrier solution. It supports all three major carriers: USPS, FedEx and UPS for all your shipping needs. Just connect your shipper accounts and use them to generate digital postage for each shipment.
Improve Accuracy

Powerful, built-in features help you eliminate the errors once and for all. With features like Order Inspector, you'll be able to find and fix errors before they become an issue. Send the right package to the right place every time, and stop worrying about the little things. Use other features like Shipping Genie to find and flag orders before they go out for more accurate fulfillment.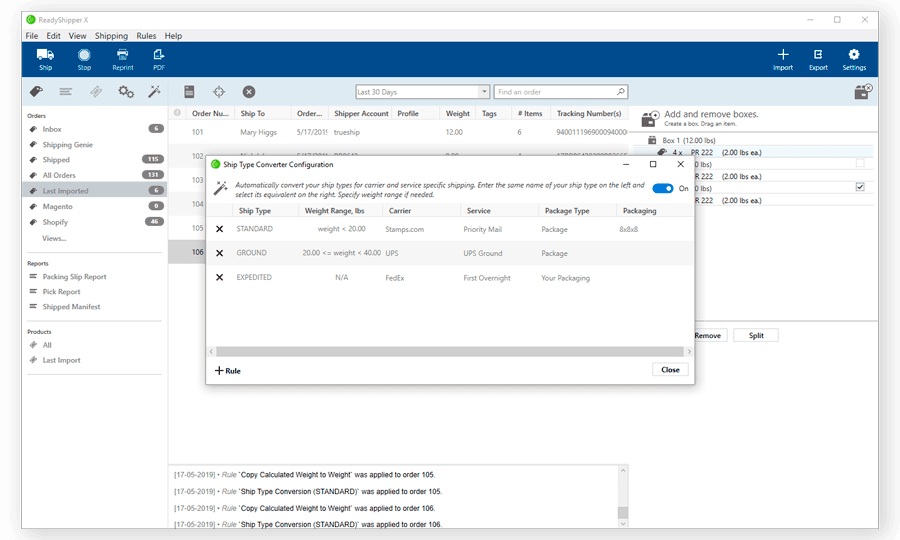 Ship Type Converter

Need to update ship types and want it to be fast and easy? We've got you covered. The Ship Type Converter lets you convert any ship type, package, shipping service and weight range in just a few clicks. Update single shipments or multiple shipments with ease.
Profiles

Customize individual sales channels for outbound shipments with the Profiles feature. It lets you assign specific ship types, box sizes and more to sales channels or new profiles that you create (for fulfillment houses). It's a more agile and smarter way to manage fulfillment.
Find Out Why Thousands of Retailers Use ReadyShipper