Ship From Anywhere For Less
Running your BigCommerce store shouldn't have to consist of a constant battle between managing your time and trying to reduce your shipping costs while keeping your customers happy. ReadyShipper BigCommerce shipping software provides the all-in-one solution you've been looking for. Automate time-consuming tasks, update customers and ship orders with ease (FedEx, UPS, USPS). Get connected to impressive discounts on shipping while cutting down on your order fulfillment time.
Want fast shipping speeds, improved accuracy, real-time rate comparison and built-in savings for USPS Priority Mail? Then look no further than ReadyShipper X BigCommerce shipping software. The new and improved version packs a serious punch with features like Smart Box Manager that lets you manage multiple boxes with ease, or the updated Shipping Genie, which improves shipping accuracy to give you peace of mind.
ReadyShipper X is a premium plugin for the ReadyCloud CRM suite. To get started, make sure you create your ReadyCloud CRM account, and then add ReadyShipper X from the Appstore. Start your 14-day free trial now. No credit card is required. Questions? Call us at: 877-818-7447.
Ship. Save. Anywhere

ReadyShipper shipping software for Bigcommerce now comes with preinstalled integrations into your favorite shopping carts and online marketplaces. In just a few minutes, you can quickly link your accounts and be importing and processing orders with ease. Ship to your heart's content, all you need is an internet connection.
Effortless Editing

Automatically import in batches, create custom UPS, USPS and FedEx shipping labels in batches, and post back tracking numbers with ease, all from one simple-to-use software solution. We especially developed our software and engineered it to handle all of your current shipping needs, to help prevent shipping order errors and to ease your business operations day in and day out.
Multi-Carrier Shipping Solution

ReadyShipper shipping software for BigCommerce supports all major carriers, including: FedEx, UPS and USPS. It also comes with a free Pitney Bowes account so you can ship more and pay less. Start getting your packages out the door faster than ever before, and watch as the savings add up.
Shipping Genie

ReadyShipper shipping software for Bigcommerce helps you ship accurately and quickly. Prevent order errors and oversights with built-in Shipping Genie. It scans your outbound orders to find and flag errors before you send them out. Making corrections is easy with this powerful accuracy tool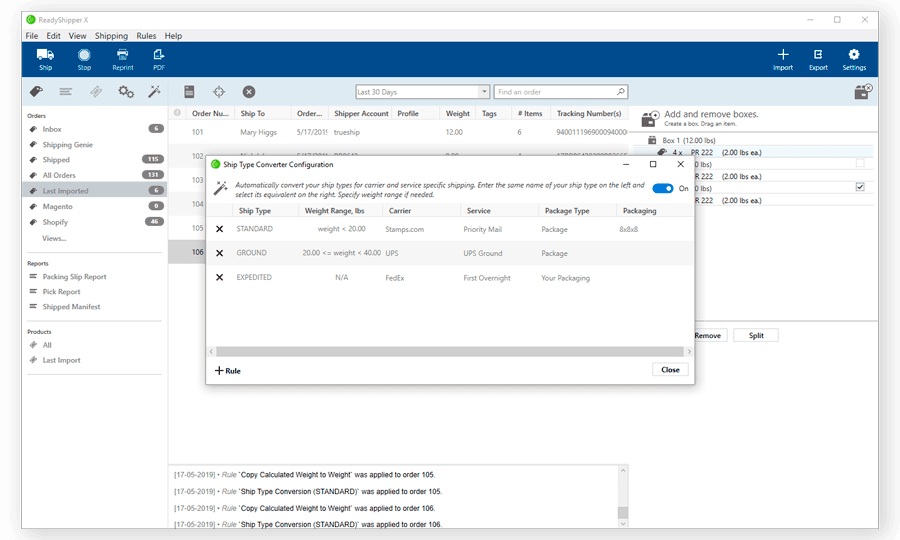 Ship Type Converter

Need to convert a shipping service to another? Got custom box sizes, packaging and weight ranges? We have you covered with the Ship Type Converter. It handles the heavy-lifting so you can update shipping services in just a few clicks. Try it out today in the all-new RS X.
Profiles

Easily manage multiple shipper accounts and sale channels with the all-new Profile feature. It lets you assign specific ship types, shipping carriers, ship from addresses and more to individual profiles you create for greater ease. Create as many profiles you need and access them all in just a click.
Find Out Why Thousands of Retailers Use ReadyShipper