Ship From Anywhere For Less
ReadyShipper WooCommerce shipping software enables you to tackle your order fulfillment with ninja accuracy and speed. One click imports all your orders. Another assigns your shipper (UPS, USPS, FedEx). And one more prints your shipping labels. Get instant savings with built-in Flat Rate Select, good for sizeable discounts on USPS Priority Mail up to 20 pounds.
Imagine your WooCommerce orders ready to get shipped out to your customers in just a few clicks. That's the ease-of-use you'll enjoy with our shipping software for WooCommerce. Available for your favorite e-commerce stores, it seamlessly integrates to help you cut your fulfillment time in half while getting you the best shipping deals. ReadyShipper brings real efficiency to your WooCommerce store. Now you can track, manage, update and ship orders the easy and smart way… like a ninja.
ReadyShipper X is a premium plugin for the ReadyCloud CRM suite. To get started, make sure you create your ReadyCloud CRM account, and then add ReadyShipper X from the Appstore. Start your 14-day free trial now. No credit card is required. Questions? Call us at: 877-818-7447.
Benefits of WooCommerce Shipping Software
Make the most of your WooCommerce store with this powerful plug-and-play module for ReadyShipper that takes the tediousness out of managing your order and fulfillment processes. No longer will you have to manually copy and paste your orders, a process that often results in order errors. Start shipping your WooCommerce orders faster and more accurately today with cost-savings on shipping that add up fast.
The WooCommerce Shipping Software plugin for ReadyShipper is powered by the cloud. There are no WordPress plugins to install. There is no lag in your orders, and your files, settings and preferences are always stored in the cloud. Ship fast, accurate and get locked into amazing shipping savings today!
Ship From Anywhere

Our WooCommerce shipping plugin also can talk to other ReadyModules, like our OrderMotion or ChannelAdvisor order management plugins, allowing you to better manage your inventory. Link your ReadyShipper to our QuickBooks plugin to make accounting a simple and easy process for your online store. With this many features and options, the sky's the limit! Sign-in and ship from anywhere at any time, with options for CSV, ODBC and more.
Powerful Automators

Stop manually copying and pasting shipping information with your orders, which can really take hours out of your day. Instead, ReadyShipper WooCommerce shipping software gives you the import and export feature. It allows you to take all orders, assign a ship status, print a label, send comments to the customer, update the order with a WooCommerce shipping tracking number and even print shipping labels from your thermal, inkjet or laser printer.
Multi-Carrier Shipping Solution

ReadyShipper WooCommerce shipping software is a multicarrier solution with built-in support for FedEx, UPS and USPS. Just connect your shipper accounts in the software and use it to generate all the postage and prepaid shipping labels you need for all your outbound shipments.
Accurate & Easy

Easy edit and import and built-in features make things easier. Take the Shipping Genie feature, it will actively scout for any errors and find them and flag them before you send out orders, saving you time and money. You'll be able to update orders on the fly, import and export orders one at a time or in batch, and automatically send tracking information and order status updates to appease your customers.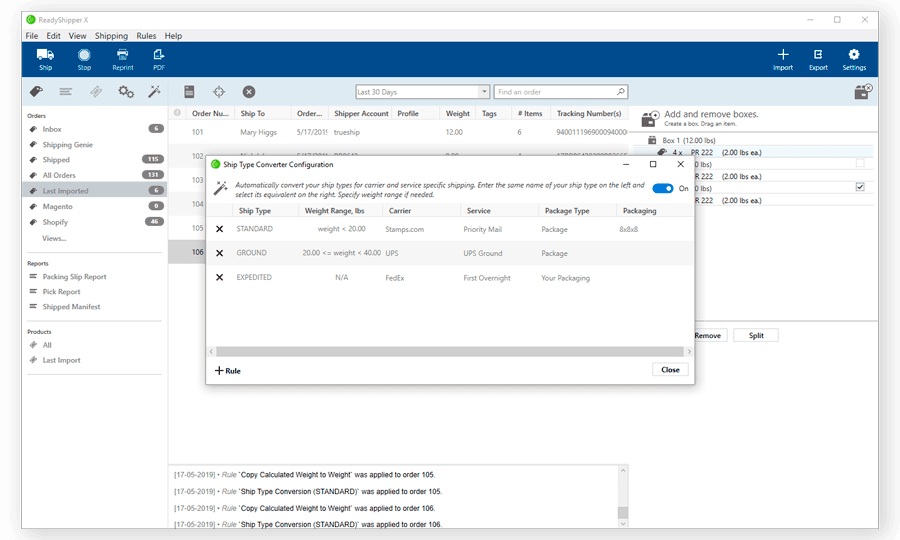 Ship Type Converter

The Ship Type Convert makes it easy to consolidate changes across different shipping services, types, packages and even custom packaging. Use this feature to make fast, accurate updates to your ship type, so you can easily alternate between shipping services without the hassle.
Profiles

The new profiles features lets you create individual profiles for sales channels or even different customers you are shipping for (fulfillment house). These profiles can be set with their own rules and recipes, shipping accounts and more. It's a faster, easier way to manage your fulfillment.
Find Out Why Thousands of Retailers Use ReadyShipper