Ship From Anywhere For Less
Your Shopify store has helped you sell your products like crazy on your new site, and has also made it easier to do for you than ever before. So what now? Well those orders have to be shipped out quickly to keep those new customers happy. It seems like a good problem to have, but the more orders you need to ship, the more hectic things are going to get. That is, unless you have ReadyShipper shipping software for Shopify.
ReadyShipper Shopify shipping software (FedEx, UPS and USPS approved) enables you to put many of the time-consuming aspects of fulfilling your orders into auto-pilot. Create custom rules and Recipes (automated shipping tasks) that save you time and money while getting connected to the lowest shipping prices possible. Easily import and sort orders, browse for the best shipping rates, print your shipping labels and update your customers… in just a few clicks.
ReadyShipper X is a premium plugin for the ReadyCloud CRM suite. To get started, make sure you create your ReadyCloud CRM account, and then add ReadyShipper X from the Appstore. Start your 14-day free trial now. No credit card is required. Questions? Call us at: 877-818-7447.
Ship From Anywhere

ReadyShipper shipping software for Shopify works with popular ecommerce sales channels, like eBay, Amazon, and many more. Connect to all your channels and manage your orders from one complete interface that makes shipping an easier, more accurate task. With an internet connection, you can ship from anywhere you like.
Instant Gratification

ReadyShipper connects directly to your Shopify store to import all your orders automatically or on demand. It also allows you to create all your UPS, FedEx and USPS shipping labels, and send the completed tracking information back to Shopify. In just a few clicks, you will be able to import and edit your orders, assign a shipping carrier and update your customers.
Multi-Carrier Shipping Solution

ReadyShipper Shopify shipping software is designed to work with all major U.S. carriers for all your shipping needs. It's compatible with FedEx, UPS and USPS. Just connect your shipper accounts inside of Readyshipper X to start generating digital postage.
Shipping Genie

Avoid costly errors with built-in features like Order Inspector and Shipping Genie. They help you find errors and update orders in just a few clicks… before you ship them out. You can even edit orders in batches to make updates to a wide group of orders, like the ship type, weight or carrier. No more manually editing orders one at a time. With automation like this, you'll be shipping faster than ever!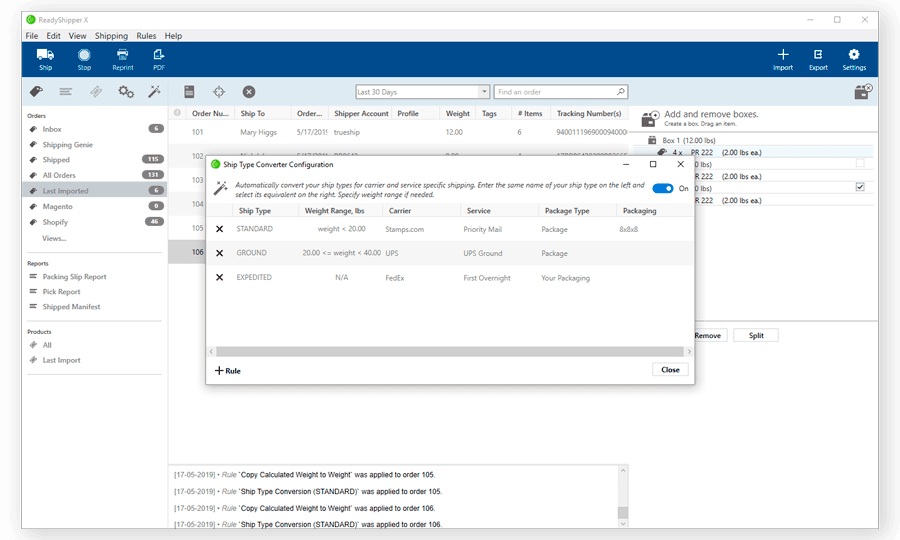 Ship Type Converter

Automate tedious package updates with ease by using the Ship Type Converter. Simply select the orders you want to update, and then add the new modifiers, such as an updated size, weight, ship type or package size. Update individual or multiple orders to ship faster and more accurately.
Profiles

Want to assign a certain shipping method and automation to a specific sales channel? Perhaps you're a fulfillment house that sends out packages for lots of different brands. Profiles are the answer. Create as many profiles as you like, set certain automations, like ship type, package size, ship from and more, and streamline your fulfillment.
Find Out Why Thousands of Retailers Use ReadyShipper