+ ADD

SHOPIFY TO THE READYCLOUD SUITE
The ReadyCloud Suite is a powerful Shopify CRM software solution that plugs right into your Shopify store. It enables you to follow the lifecycle of your customer from the initial order all the way to the shipment, delivery or even the return. Robust analytics mean you to stop guessing about your customers' habits. Instead, learn the seasonality and true habits behind each shopper, with the ability to instantly create detailed customer profiles, notes and more. Take thing to the next level with integrated Shopify Shipping and Returns plugins, available in the Appstore for an added monthly fee.
No Credit Card Info Needed!
See All Your Channels From The Dashboard
The ReadyCloud CRM dashboard delivers real-time, critical insights from across all your sales channels. It gives you a complete look at your customer data, trends, habits, seasonality and more, so you can make the right moves the first time.
See your orders like you've never seen them before! ReadyCloud CRM for Shopify gives you highly detailed order data, complete with shipping timeline, return information, tracking number, invoice ID and more. Add notes to each order, tag orders for easy sorting and even include them in tasks you assign to team members.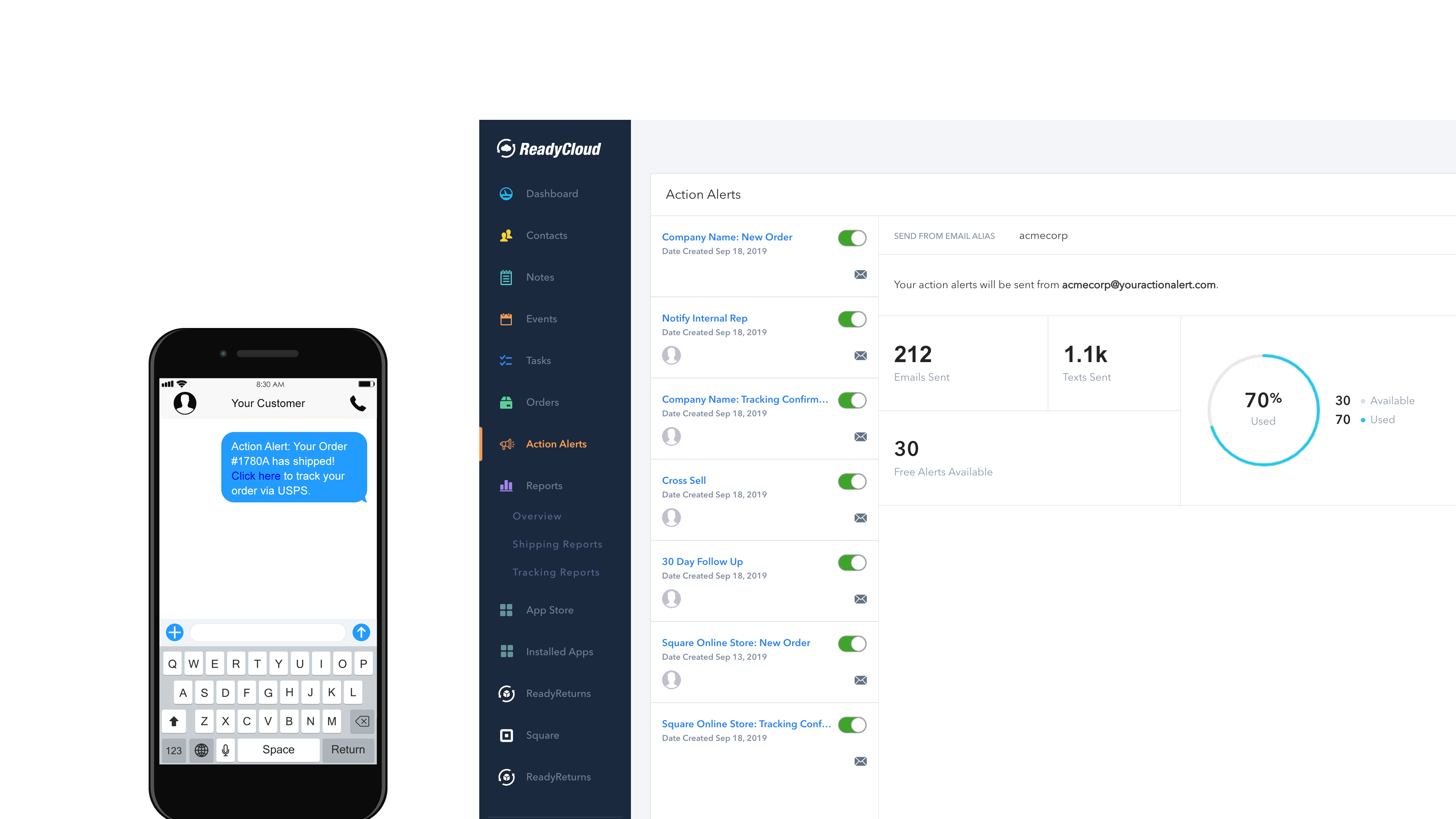 With Action Alerts, you can instantly notify your customers via SMS or email with updates about their order, tracking numbers, return information, thank yous, reminders and so much more. It's a powerful growth marketing tool. Even better? Your ReadyCloud account comes with 100 Action Alerts for free!
Getting your orders out the door quickly and accurately is made easier with the ReadyShipper plugin for ReadyCloud. It's packed with user-friendly features that will help you improve shipping accuracy while connecting you to shipping discounts in the process. Find out why thousands of retailers rely on this plugin by starting your free trial today.
The more you ship, the more you save. ReadyShipper connects you to signature discounts on shipping via built-in Flat Rate Select. Use it for all your small, heavier packages to save some coin with each shipment you send.
Make returns easy for you and for your customers with the ReadyReturns plugin. Setup takes just a few minutes. After that, you'll have a fully integrated and automated returns system in place.
Be in full control of your return policy with ReadyReturns. Two-thirds of customers read your policy before making a buying decision. Now you can capture last chance sales by letting customers know that returns are easy at your online store.
Set custom rules on all your returns. Determine return-by dates, return shipping and restocking fees, and more. With ReadyReturns, you are in full control of your return policy. It's returns done your way, and you can update the rules any time you want to.
ADDITIONAL CRM FEATURES
With integrated analytics, you can finally learn the lifecycle of your customers. Find out who is buying what, when and why. Track orders from origination to shipment and even returns. Create detailed customer profiles with the ability to add notes with tagging, events and calendar entries. Never miss out on a sales chance again when you have ReadyCloud powering your CRM.
Take productivity to the next level with tasks! The tasks feature lets you create unlimited tasks, complete with tagging, comment stream, attachments and due-by dates. Assign tasks to one or multiple team members for true collaboration. Convenient dashboard alerts and integrated breadcrumbs keep you and your team in the know.
Get to know your customers better with the notes feature. Add detailed notes to any customer profile so you can schedule call-backs, sales reminders, returns processing and much more. Stop wondering about your customers, and start being in the know!
Contact data is instantly imported from your Shopify store to create beautiful and highly detailed customer profiles. Put a name and face to the orders that you have. Our Shopify CRM app provides the order history, pending shipments and even returns volume for each customer profile with tracking information and so much more.
Enhance ReadyCloud by adding apps to your package. Our team is hard at work, day and night, to bring you the most robust integrations for our Shopify CRM software. From email services to discount shipping, order management, accounting, fulfillment, returns and more. Check out what we have now, and be sure to check back often to find out what's new in the future.
Stay on top of things with the handy calendar. Easily create color-coded events using week/day/month views. Add contacts to certain events with the tagging feature. Set important reminders and to-dos so you can tackle your schedule with ease every day.
Point of sale systems are not designed to build relationships. But it's the relationships that you build with your customers that lead to the sales that you process from the POS. Now there's way to connect both sides with the ReadyCloud Suite.