+ ADD

SHOPIFY TO THE READYCLOUD SUITE
You've worked hard to create your Shopify store and to get the word out about your brand. Now you can fulfill your brand's promise to offer fast shipping, easy returns and growth marketing with the ReadyCloud Suite. Get started with a 14-day free trial today. No credit card is needed.
NO CREDIT CARD INFO NEEDED!
ReadyCloud CRM Pricing
$24
Per User/Month, Billed Monthly.
Cross-channel ecommerce CRM
for online retailers.
All Standard Integrations Included
1GB Team File Storage
Get Free Users
Cross Channel Order Visibility
Contacts
Calendar
Unlimited Order Import
Notes
Reports
TRY FOR FREE
NO CREDIT CARD - NO COMMITMENT
See All Your Channels From The Dashboard
ReadyCloud's robust dashboard delivers real-time, critical insights from across all your sales channels. It gives you a complete look at your customer data, trends, habits, seasonality and more, so you can make the right moves the first time.
See your orders like you've never seen them before! ReadyCloud CRM for Shopify gives you highly detailed order data, complete with shipping timeline, return information, tracking number, invoice ID and more. Add notes to each order, tag orders for easy sorting and even include them in tasks you assign to team members.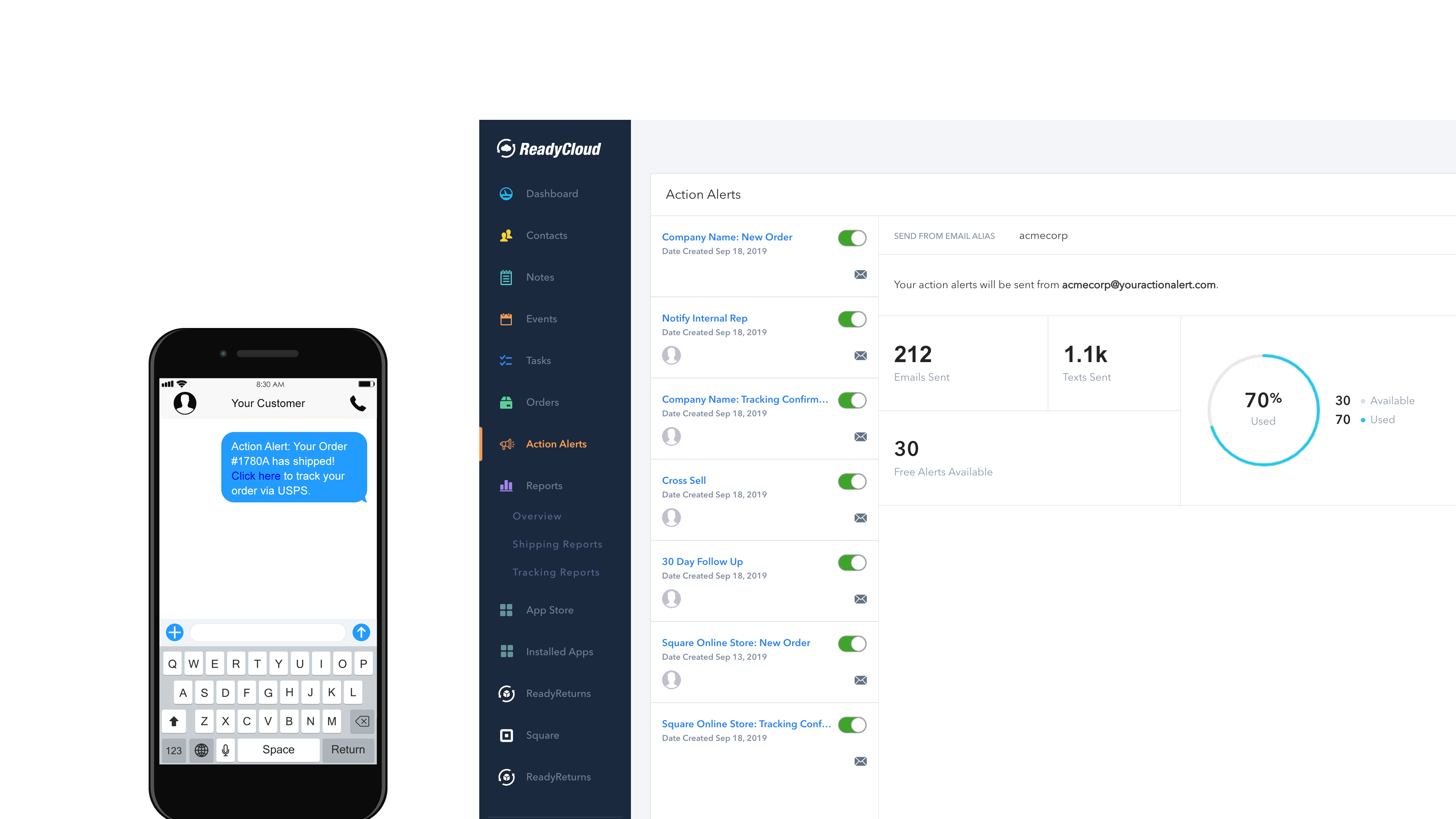 With Action Alerts, you can instantly notify your customers via SMS or email with updates about their order, tracking numbers, return information, thank yous, reminders and so much more. It's a powerful growth marketing tool. Even better? Your ReadyCloud account comes with 100 Action Alerts for free!
Getting your orders out the door quickly and accurately is made easier with the ReadyShipper plugin for ReadyCloud. It's packed with user-friendly features that will help you improve shipping accuracy while connecting you to shipping discounts in the process. Find out why thousands of retailers rely on this plugin by starting your free trial today.
The more you ship, the more you save. ReadyShipper connects you to signature discounts on shipping via built-in Flat Rate Select. Use it for all your small, heavier packages to save some coin with each shipment you send.
Make returns easy for you and for your customers with the ReadyReturns plugin. Setup takes just a few minutes. After that, you'll have a fully integrated and automated returns system in place.
Be in full control of your return policy with ReadyReturns. Two-thirds of customers read your policy before making a buying decision. Now you can capture last chance sales by letting customers know that returns are easy at your online store.