The Best App You Won't Find in the Square Store
The Square Store offers a wide array of third-party applications and plugins that promise to boost your business and make your life easier along the way. It has thousands of add-ons, but there is one powerful tool you will not find in there: ReadyCloud.
Why is ReadyCloud the best app you will not find in the Square Store?
While Square Up is an awesome storefront, sometimes it can feel like you are outgrowing your store. ReadyCloud is here to help bridge that gap—allowing you to connect multiple stores and see your POS and offline orders all in one place.
Rather than changing stores, you can add now add ReadyCloud's amazing functionality to all your Square Up stores… adding new usability, and tons of awesome features that you won't outgrow.
Transforming Your Square Up Store
ReadyCloud transforms any Square account into a powerful Shipping, Returns and Marketing suite. It easily connects all your Square-powered order channels to engage your POS, Mobile and Online Store sales… all from a user-friendly dashboard.
ReadyCloud delivers better sales insights from your Square Up store that helps you improve the consumer experience. Built-in Shipping, "Amazon-like" Returns and action-based Growth Marketing come together as part of a suite to nurture a new sale into a repeat customer.
If you're looking to get more from your Square Stores, ReadyCloud Square CRM is the tool you've been looking for.
Read on to learn more. 
What is ReadyCloud?
ReadyCloud is a Square e-tailer's most powerful tool. It takes all the data that you're used to seeing in your Square dashboard and adds a suite of interconnected systems that give you more functionality than today's leading shopping carts, without requiring that you change your Square Up store.
ReadyCloud is specialized for helping connect teams and for automating workflows—while delivering critical business intelligence and helping retailers sell online with a more streamlined process.
In short, ReadyCloud helps you make the most of your Square data—so you can create better marketing initiatives that resonate with your customers while streamlining action-based Growth Marketing, Shipping and Returns.
Integrated Square POS
ReadyCloud's point-of-sale integration acts as the bridge between brick-and-mortar and online sales. It imports data from every credit card swipe made in your physical store location and adds it to (or creates) the correct customer profile.
As a result, you get a more comprehensive look into all the transactions being made within your business so you can use actionable data to make smarter marketing moves, connect better with your customers and streamline front-to-back operations of your ecommerce store. It's especially useful to hybrid retailers that are selling online and locally.
How Does ReadyCloud Work?
How does it work? Simply connect ReadyCloud to your Square store (takes less than five minutes), plus other any marketplace accounts you're selling on. Once connected, ReadyCloud imports all your data in seconds (e.g. order history, current orders, customer information and more).
ReadyCloud uses this data to generate robust customer profiles, complete with the details of each consumer's ecommerce order/s, history, shipping and returns timeline, Square transaction and more. Those are just the basics, but there is plenty more you can do with ReadyCloud using its native functions and premium plugins.
When you connect ReadyCloud to your online store, it instantly begins the process of creating beautifully detailed customer contact profiles. These customer profiles include things like order history, shipping and return timelines, invoices, tracking numbers, customer contact details and so much more. You can even add tags to profiles for better sorting and filtering options.
Once ReadyCloud has imported all your data, you will see a timeline (pictured above) showing the beginning of the customer lifecycle all the way up to the present day. This is especially helpful for multichannel sellers who have not yet had a way to view all their customers in one place, no matter where they are shopping.
Now you can see it all, in one place, from one dashboard and with a host of powerful marketing tools, shipping software and automated returns right at your fingertips.
Get to Know Your Online & Offline Customers
ReadyCloud gives you insights into the customer journey from multiple touch points throughout the purchase cycle. This puts a name, face, product preference, order frequency and more to each sale that is made in your Square store, instead of each transaction being faceless.
With this information, you can leverage this transaction-level data to make smarter business moves and to grow your customer base. You can also connect with your team better, manage the workflow of your daily tasks and connect with customers using action-based growth marketing tools that prime your sales cycle for cross-sells, upsells, personalized sales and promotions.
Tour of ReadyCloud Features
ReadyCloud helps you elevate your Square Up business across departments, meaning it has a wide array of features for not only sales, marketing and operations but also for shipping and returns.
Let's dive in for a closer look at the many features.
Add Multiple Square Stores
As we've said above, ReadyCloud isn't just designed for one Square Up store, it can connect them all. This gives you a way to visual your data and workflow across all of your sales channels.
Whether you want to connect all your Square Up stores to one dashboard, or you have additional sales channels you are selling on, like Amazon, eBay or Walmart, ReadyCloud connects them all into a seamless dashboard, helping you track all your sales volume, shipping, returns and csutomer orders from one place.
Connect All Your Sales Channels
Without ReadyCloud, you cannot link your Square account with your other marketplace and shopping cart accounts under one vibrant umbrella and multitool dashboard. This presents a problem because whenever you want to do any sort of reporting and analytics, you must click through to each of your accounts separately, with some being less usable than others, and tons of tabs open on your computer.
This is a time-consuming process that is also subject to human error, just like any other task that requires manual data entry. You might not even get all the data you want, as some ecommerce platform reporting tools only give you barebones insight.
Skip all that frustration with ReadyCloud and see your data in one user-friendly dashboard and sort through it using filters and tags. You will now be able to see how your sales channels stack up, so you can be strategic about restocking products, flash sales or other activities.
Better Visualize Your Data
As mentioned previously, you do not always get an in-depth look into your business performance when you are limited to the native tools offered by ecommerce shopping carts and marketplaces. Sellers can certainly see their total sales in these reports… but what about the granular data that will make or break the next quarter?
It is best to know what is happening at the transactional level, so you know who is buying, what they are buying, if they are returning and how these orders are impacting your bottom line. This gives you actionable insight, so you know what to do next—and so you have the key pieces data to back it up.
Here is how this business intelligence looks in action: With ReadyCloud, you can tag your top customers, the ones who make large purchases on a regular basis. These MVCs (most valuable customers) can then be filtered and targeted the next time you have a flash sale. Add their email addresses to a new campaign and let your email marketing + Square CRM system do the work for you.
On the day of the flash sale, you will see boosted average order value and lower returns because it is mostly your MVCs who are shopping. They feel rewarded by getting recognition for their loyalty, and you rake in the revenue. It is a win-win!
Improve Your Email Marketing
The possibilities of improved email marketing are not limited to MVC-exclusive flash sales, though those are certainly a major perk. ReadyCloud lets you sort through your customers and assign them to groups, meaning you can segment your email marketing campaigns any way you choose.
For example, you can tag serial returners and exclude them from sale notifications or promo campaigns. You can send out discount codes to customers whose birthdays are coming up or to customers who have not made a purchase in a while, as a request for them to come back and shop. You can also use this feature to alert customers about product restocks, which can be sent solely to those who have bought the product before.
ReadyCloud integrates directly with Mailchimp and Constant Contact to boost your email marketing efforts like never. The software will automatically create new distribution lists based on your tags and then track email performance and any associated sales. Now you can send better marketing messages to all your Square Up and other multichannel customers.
Add Growth Marketing to the Mix
Growth Marketing comes to life with Action Alerts, a new feature to ReadyCloud. With Action Alerts, you connect with customers in new ways by utilizing limitless filters and tags, all within the Square CRM. Whether you want to update a customer on a shipping status, send them a thank you, a special birthday message or more, Action Alerts help you tap into the customer journey while giving you the option to promote valuable upsells and cross-sells to all your Square customers.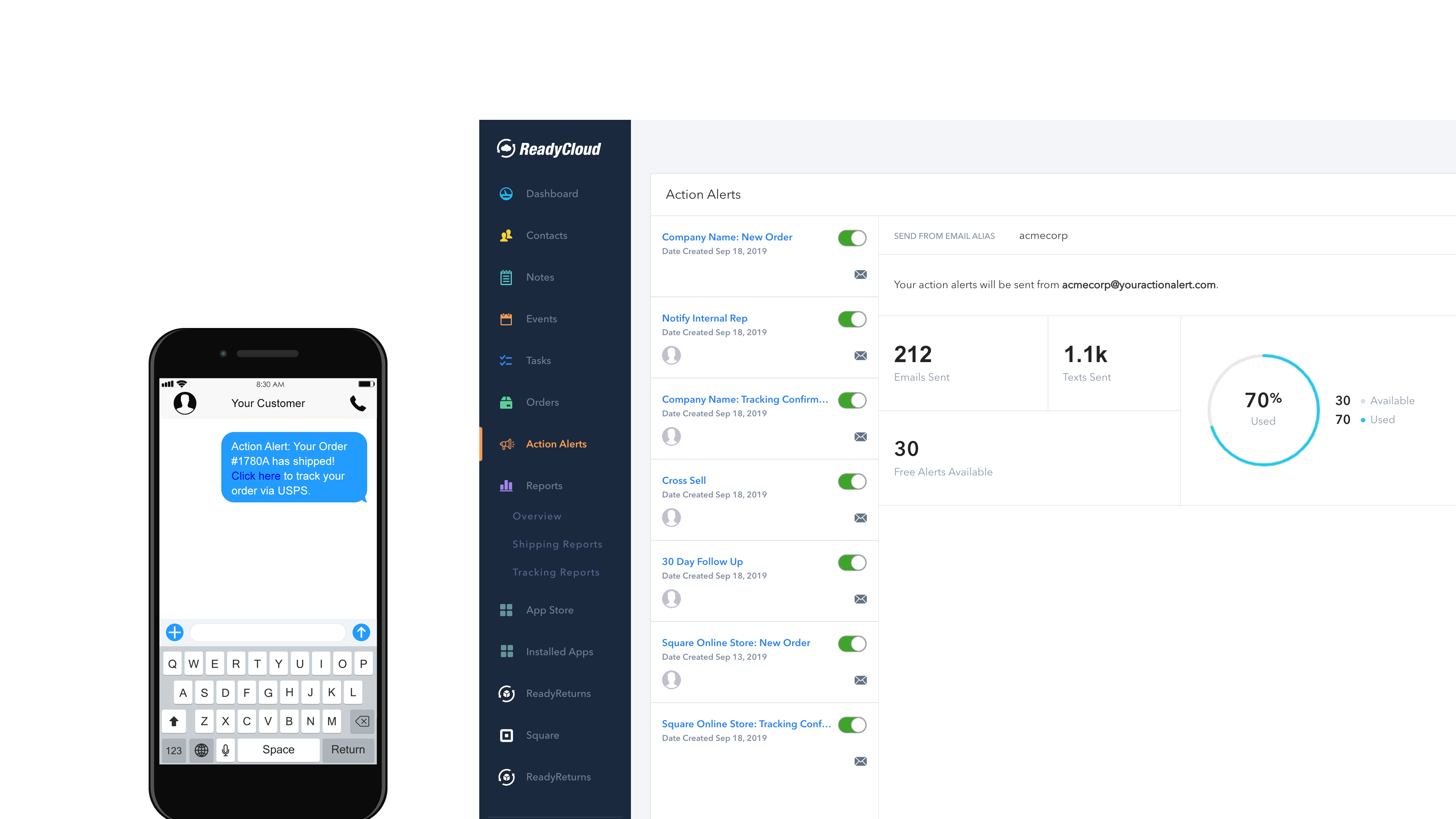 Set Action Alerts to notify your customers when their orders have been shipped or when their returns have been processed or remind yourself to check in a few days after delivery to ensure the product met their expectations. Nearly any activity related to your Square store can be turned into an Action Alert.
Tag Customer Profiles
Data is so much easier to process and interpret when it can be sorted, don't you agree? That is why ReadyCloud lets you add tags to customer profiles, like adding keywords to a blog post or hashtags to a social media update.
You can create your own tags, add as many as you would like to customer profiles and then use advanced filtering to sort profiles by these tags. This helps you view, sort and filter specific groups of customers at a time.
Color-Code Your Day
Chances are, you are already familiar with Google Calendar, Outlook, or iCalendar, depending on your preferred system. If you have the basics down, you will easily be able to start with ReadyCloud's color-coded calendar.
Add events the same way, assign them a color for better organization and add notes or tags for more information to review right before the event. You will stay up to date and never miss another detail.
Take your calendar to the next level with automation, which links your existing calendar platform (Google, Outlook, iCal, etc.) to ReadyCloud. Just like with the dashboard, you will be able to see everything in one place and be more organized than ever. You can use simple tools like Zapier to sync your other calendars into this system for improved efficiency.
Manage Projects Better
Using the calendar, Action Alerts, and new features like Tasks & Team Management, you will be able to manage most of your business projects more proficiently. Simply tag your teammates and assign them to tasks and add them to customer profiles for full-circle organization.
If it looks like a familiar process, it is because it is like Slack, Wunderlist and Microsoft Teams, but better, faster and fully integrated into your preferred system.
Automate Product Returns
The writing is on the wall: Customers want hassle-free returns. That is why they read the returns policy, shop with brands that do not charge for returns and go back to the shops that gave them an easy and positive experience. Returns happen, so why not make the most of them?
The ReadyReturns premium ecommerce returns plugin can be added to ReadyCloud and your Square Up store to give your customers a smooth automated experience they typically only expect when shopping with the largest marketplaces online. There is no coding required, and you can play by your own rules. Make your unique returns policy shine and, more importantly, make your customers happy with the process when their purchase just does not work out.
Connect Thousands of Apps
The less glamorous side of ecommerce is full of back-office busywork that eats up a ton of your valuable time. To name a few monotonous tasks, there's data entry, accounting, sorting through call and chat logs and plenty of other daily to-dos to keep your business running smoothly.
The solution: Zapier. It's a powerful and user-friendly automation tool that connects more than two thousand apps to streamline and speed up your workflows.
With more than 2,000 apps that you can connect to ReadyCloud via Zapier, the sky is literally the limit. Just about any type of popular service you can think of can be synced to your account and can be set to perform a number of actions in ReadyCloud, helping you consolidate the services you're using and make your day more productive and efficient.
Here are a few of the most popular Zaps our users are working with.
Popular Zaps (what Zapier calls the workflows users set up themselves) for ReadyCloud include:
Customer support platforms like Zendesk, Freshdesk and Helpscout connected to customer profiles to keep track of support issues and ensure they get resolved.
VOIP phone systems like RingCentral connected to customer profiles to make sure missed calls get returned and call logs are added to the timeline of customer interactions.
Google Suite connection to the CRM for Contacts, Calendar, Notes and more.
Chatbot platforms connected to customer profiles for the customer interaction log.
Get the full scoop on how Zaps work in ReadyCloud our Related Blog.
Take Your Data with You
Ecommerce shopping carts are in fierce competition, so they do not want to see you make the switch and make it difficult to take your data with you. Fortunately, ReadyCloud has a built-in solution that lets you Take Your Data With You when switching to a new cart.
The cloud-based system will preserve your data while you are migrating to a new platform, so you can pick up where you left off. You will also get a six-year history of orders and customer data.
Get More From Your Square Up Store!
Square is one of the most efficient and cost-effective point-of-sale systems currently available. Square Up stores give online, offline and hybrid retailers a way to sell to customers and grow.
Now you can connect all the dots in the customer journey, across all your sales channels, by adding a powerful app you won't find in the Square Store. By using the ReadyCloud Suite and Square side-by-side, you can gain the competitive advantage.
See for yourself. Get started with a 14-day free trial today. No credit card is required. Got questions? Email us at: [email protected]. Or give us a ring at: 877-818-7447. Want a demo? We're here to help, we give demos all the time! Schedule Your Demo Today!